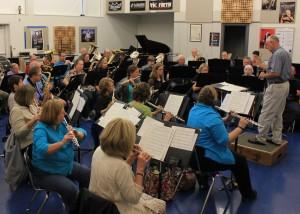 The Southern Oregon Concert band encourages qualified musicians to join the band. Southern Oregon Concert Band is a solid Grade 3- 4 band. We encourage prospective members to join at the beginning of a rehearsal cycle for an up-coming concert; September 22nd for our Nov 11th Vet's Concert; Nov 17th for our Dec 18th Holiday concert; Jan 26th for our March 17 Winter Concert and April 5th for our May 31st Spring Concert.
Prospective members will rehearse with the band for a couple of weeks then undergo an evaluation by the section leader and conductor. After the initial couple of weeks prospective members will either be invited to join the band as a regular member if a there is a need in their section for additional players, invited to join a sub list if their section already has enough players or invited to try again in the future if it has been determined that their current skill level doesn't fit with the demands of the selected repertoire.
Once accepted into the band we ask that you attend all rehearsals for each concert.
We rehearse every Tuesday from 7pm-9pm at the South Medford HS Band Room; 1551 Cunningham, Medford.
For more information contact the President at socbprez@jeffnet.org.