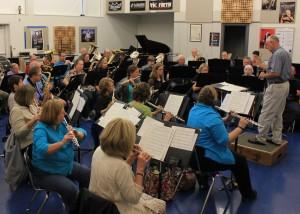 The Southern Oregon Concert band encourages qualified musicians to join the band. Southern Oregon Concert Band is a solid Grade 3- 4 band. We encourage prospective members to join at the beginning of a rehearsal cycle for an up-coming concert: Veteran's Day Concert (NOV 11) Holiday Concert (Friday before Winter Break in DEC), Winter Concert (Thursday before Spring Break in MARCH) and Spring Concert (Thursday before Memorial Day Weekend). Rehearsals for those concerts begin 8 weeks prior to the concert on Tuesdays from 7-9pm at the South Medford HS Band room.
Prospective members will rehearse with the band for a couple of weeks when they along with the section leader and conductor determine if they are a good fit for the band.
Once accepted into the band we ask that you attend all rehearsals for each concert.
We rehearse every Tuesday from 7pm-9pm at the South Medford HS Band Room; 1551 Cunningham, Medford.
For more information contact the President at socbprez@jeffnet.org.